Revision.
I've been writing since the time of my mother's old mechanical typewriter in second grade. And I thought I had the process down.
In fact, I love the process, how you start with the
kaBOWm!
of brainstorm. All
What-if-what-if and then this and that and she could do this and then he'll
, etc etc. Your ideas are two by fours in the house you will come to live within. And oh, it's a grand place, its windows lit up in the night. You run room to room, check out the cupboards and closets, jump on all the beds. You love this place!
It's perfect!
Then there's the drafting, a sort of slow and steady progress. You settle in. The house doesn't seem quite as shiny-new anymore. You notice the stains in the ceiling and the ripped up carpet in the den, but you keep on. And then it's yours, more or less, and you fail to notice these things. Or anyway, it'd be so hard to make any changes now that you're all moved in.
For many of us, this is the end of it. We live in our less-than perfect houses, loving them anyway, comfortable.
But really, now's the time to revise.
I used to think that I loved this part. I'd spend days and days walking my novel's many rooms, adding a little paint, a new baseboard, a desk lamp might become a telephone might become an open bible. It was sort of fun, and I even felt like every day I was inching towards a better novel.
But that wasn't really revision. It was too easy. It was this: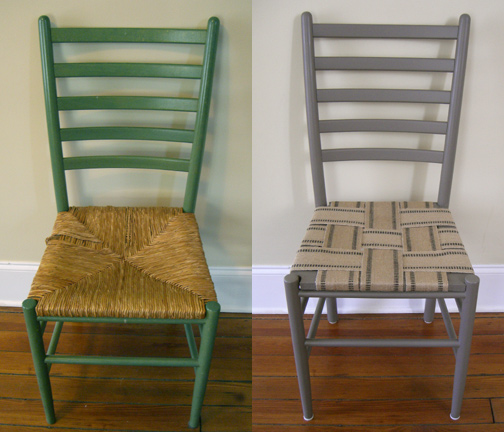 If your novel is a house, constructed in the rich green land of your imagination, revision is just that: Re-VISION.
You might add another floor (I really wanted to say another story here, but it was too cheap a pun...) expand the kitchen, turn the three lightless little bedrooms into a fantastic den. in other words: You really change stuff.
It's terrifying.
Stuff gets tossed or put in storage, your roof opens to the rain. You fear you've lost the very soul of the place or that you will never, never, never-in-a-million-years manage to build it back up.
Fear
haunts the revision process.
It's taken me 30-some years to recognize this. My ineffective revisions, my hundreds of not-different-enough drafts, my word switching and wall-painting... It was all about fear.
I didn't trust that better words would come. Each word, each sentence seemed like such a gift.
If I tore down the beautiful parlor with it's lush wallpaper and polished floor, how could I be sure that the room I'd construct in its place would measure up?
I couldn't. I didn't.
This last few weeks, I've taken a break from the gibbons. I've been revisiting an old manuscript, the
Novel Previously Known as Idylwilde
. A few years back, an agent called me and asked me to revise this manuscript. Of course, I was totally eager to do so. Following her advice, I pryed loose the back porch and nailed it to the front. Then I did a lot of redecorating, lush, pointless, redecorating. Of course, this wasn't enough, and after much hand-wringing (On my part not the agent's) I decided to abandon the place.
But in returning, I finally (finally!) found myself at the heart of a truth:
THE WORDS WILL COME
. Maybe not easily, maybe not at first or perfect from the onset, but they
will
.
In order to do the hard work of revision, I had to trust this. I ripped out fully half of the manuscript and it felt.... liberating.
The novel was creaky with age, its weak spots, so apparent now. I took out my crowbar and got to work, trusting that something better would grow up in its place.
Perhaps it takes many many days of painting and trim to find your inner crowbar.
Okay, enough with the metaphors, already!
Here are a few practical things that helped me get my courage up:
1. Make a separate word document and save all the passages you cut. (Mine is 75 pages now and, probably, I will never look at it again.)
2. Think about the big stuff. If time effort and pain were not a factor, what would make your plot more interesting, exciting, connected, etc? This is the direction you'll be wanting to take.
3. Copy your document and rename it (I find it helps to give it some half-ridiculous name. Sort of like telling myself to loosen up) then slash and burn through the thing just to see how it feels. Take out whatever is questionable, repetitive, excessive, write comments to yourself in caps and yellow highlights, go
Mystery Science Theater
with it.... because IT JUST DOESN'T MATTER
4. Remember you are a totally capable writer and that the manuscript can only get BETTER. (I guess this might be termed going
Stuart Smalley
on it...)
4. Figure this type of revision is the writing equivalent to skydiving and just go ahead and do it.
(Yes, I snuck in a whole new metaphor here. Sorry about that. I've cut a ton of them out of the manuscript and had to put them somewhere)